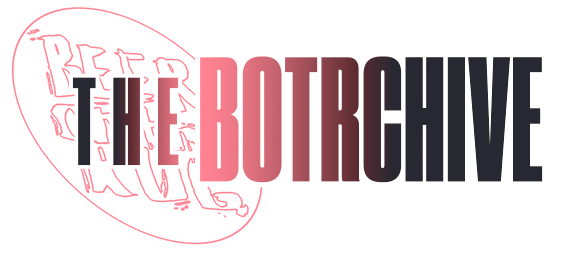 Update 7th July 2022 - Guess who successfully forgot about the site for a year again! A handful of links got taken out, with this update they should be back online again! Bafflingly, BOTR's revived page has taken out ULU in the downtime between updates but on the upswing they've also brought back a couple of the links that ended up dead. For that reason I must stress that any links on the official revived Bandcamp page can disappear at any moment and that if you're interested in a given release, that you grab it as soon as you can from there. I will try to get backup links added if the revival link disappears. Again, bother me on Twitter if that happens; if I don't get it sorted then I recommend checking Soulseek.
----
Update 23rd August 2021 - I REMEMBERED THIS THING EXISTS SORRY. Overhauled the above description to be more current, and also I've added in some new shiny links for stuff. ULU is back up on BOTR's page but Nigra EP seemed to get taken out with it. We've changed some links around too; if a BC page exists and you can only stream it but not DL or buy it, it is now linked underneath the MEGA link for posterity. Additionally, new BC replacement links have arrived for the following artists; MediaFired, Headboggle & Vibrating Garbage, Looks Realistic, de Tuinen, Location Services, Xix Tropic and VRTUA. We're still looking for the remaining missing ones, looking to upgrade all the albums to FLAC if possible and YES we're aware some links are down, we're fixing them ASAP! Ping us on Twitter if you have 'em!
----
Back in September 2019, the popular niche electronic netlabel Beer On The Rug known for having a pretty diverse and interesting discography (even housing some early releases of the vaporwave genre) completely deleted their entire back-catalogue of albums on Bandcamp and all tracks on their Soundcloud page. In response, we set up this Archive page in an attempt to ensure everything was still available to people. Later on, on the 29th of October, it came back...except they only bothered to re-instate their last three releases and nothing else. We still aren't sure why this entire debacle happened to begin with, but we're going to try to keep this page going and updated, even if we forget about it occasionally. Everything linked below is in MP3 at 320k unless otherwise stated. These MEGA links are managed by us, so if any of them go down, please feel free to bother us on Twitter using the links below. If an artist has personally re-uploaded a release to their own Bandcamp page, we will link to that instead.
If you're wondering why Vektroid's albums don't have links outside of to her official Bandcamp pages, it's because her stuff is well and truly sorted with regards to mirrors and archived copies. All of her vaporwave work was immensely popular that we don't quite see much point in providing yet more mirrors to them. It isn't hard to find existing ones and meanwhile more than half of the BOTR back catalogue is still in limbo. Speaking of which...
We're still missing some stuff! If you have any of the albums not linked and wanna contribute, bother Avery on Twitter @coryoon. Whilst I am the main person updating the site, it must go without saying that this site would not be up without the work of my good friend Hwizzy. Not sure where they are on twitter these days, but half the credit of this place goes to 'em. Hit us up wth any missing release in v0/320k MP3 or .FLAC! Big thanks if you help out!!
BOTR-006: Laserdisc Visions - New Dreams Ltd.
BOTR-007: Napolian + Computer Dreams - (self-titled) (BOTR Revival link)
BOTR-008: Dolphin Tears - Reflections on Waterfront Property (BOTR Revival link)
BOTR-009: Macintosh Plus - Floral Shoppe
BOTR-010: BOY SNACKS - (self-titled)
BOTR-011: Free Weed - Beer On The Drugs
BOTR-013: Information Desk VIRTUAL - Sapporo Contemporary
BOTR-014: YYU - TIMETIMETIME & TIME (BOTR Revival link)
BOTR-015: Exael - Ghost Hologram
BOTR-016: Digital Natives - It's All Point Blank
BOTR-017: PrismCorp Virtual Enterprises - Home
BOTR-018: PrismCorp Virtual Enterprises - ClearSkies
BOTR-020: Torn Hawk - FIST
BOTR-021: C V L T S - Intentions
BACKUP LINK [FLAC]
BOTR-022: Angel 1 - Angel Activate
BOTR-023: Palm Highway Chase - Fantasy Recordings (BOTR Revival link)
BOTR-024: Endo Kame - Music 4 Eon Green
BOTR-025: Susan Balmar - Signum [FLAC, Tape Rip]
Stream on Spotify (or Apple Music, Deezer, YouTube etc)
BOTR-026: Looks Realistic - VA/A
BOTR-027: KHF - Half Skewered With Asian Carriers [FLAC]
BOTR-028: de Tuinen - Minor Function
BOTR-029: YYU - room music (BOTR Revival link)
BOTR-031: hakobune - Sinking Stars
BOTR-032: Euglossine - Complex Playground
BOTR-033: Pulse Emitter - Digital Rainforest
BOTR-034: Exael - Actaeon
BOTR-035: Seabat - Synthus
BOTR-036: Eyeliner - BUY NOW
BOTR-039: Euglossine - Remix Playground
BOTR-040: C V L T S - A U D I A L / S (BOTR Revival link)
BOTR-041: Umanzuki - Nemi
BOTR-042: Graham Kartna - Ideation Deluxe
BOTR-043: Dang Olsen Dream Tape - Mello Mist
BOTR-044: Angel 1 - Rex
BOTR-046: Xix Tropic - Liani Crupty (Track names altered from BOTR release)
BOTR-047: Suryummy - Genesis Clarity
BOTR-048: Yssue - Cycle
BOTR-049: massacrexx9 - Music For Tonedrone Kit in Stainless Steel Fantasia (BOTR Revival link)
BACKUP LINK [FLAC]
BOTR-050: de Tuinen - Wandelen
BOTR-051: Angel Dust Dealers - Romantic Collection
BOTR-052: Hollow Gem - A Distant Paradise
BOTR-053: Orthodontrix - First Visit (BOTR Revival link)
BOTR-054: Location Services - In Passing
Stream on Spotify (or Apple Music, Deezer, YouTube etc)
BOTR-055: mmph - Dear God [Note: Only the first track can be streamed.]
BOTR-056: CTN. - Algorithmic Love [FLAC]
BOTR-057: Aphni - Tabrecn
BOTR-058: Rhucle - Wonderland
BOTR-059: mmph - Dear God (Remix EP) [v0]
BOTR-060: AL-90 & DX2OV - RARE TPAX (BOTR Revival link)
BACKUP LINK [FLAC]
BOTR-061: VRTUA - Loud Formations
BOTR-062: Duncan Malashock - Interiors, Vol. 1
BOTR-063: Traxus - Martian Ayre
BOTR-064: Suryummy - Photon Slobber
BOTR-065: Orthodontrix - Scarcity
BOTR-066: Lost Desert - Heterogen Infiltration (BOTR Revival link)
BOTR-067: Weird Magic - ULU
BOTR-068: CAMERON EVERETT - Purest Realms
BOTR-06X: Nike Vomita - Nigra EP
BOTR-069: Saturn's Daughter - MT4M [FLAC]
BOTR-070: Leedian - One
BOTR-071?: Various - Wind Rose 神龍雀舞
BOTR-072?: CVLTS - aera